Community BioBlitz August 28th - September 11th 2020
Community BioBlitz August 28th - September 11th 2020
What is a community bioblitz?
A bioblitz is a short period of intense ecological surveying to record all the species – flora and fauna – in a given area.
Why do a community biobitz?
The FOSGP group is in the early stages of a project that involves rewilding the south side of the park (see here). We are putting together a proposal for permission from the Council so that we can allow this area to thrive as a haven for native wildlife and natural species, but before we do so, it is vital that we know exactly what is currently residing in this area.
We hope to create a green and safe space that allows native species to thrive, provides opportunities for foraging and sustainable gardening, and allows members of the community to learn about the natural world around them.
The Council is currently conducting ecological surveys across a number of Bristol sites, including St George Park. Please see the map below to see the two areas of focus for the bioblitz.
How can I get involved?
From Friday the 28th August to Friday 11th September 2020 you can spend time in the two areas of the park, taking photographs and recording all the wonderful flora and fauna around you.
You can then send you photographs (and any notes if you so wish!) to our designated email address eco@friendsofstgeorgepark.org.uk, or alternatively post them via Twitter to our account @StGeorgeParkEco
When you submit your photo, please provide as much of the following information as possible:
- Where the photo was taken
- When the photo was taken
- What were the weather conditions at the time the photo was taken
- If you spot an insect or bird, on what it was sighted (butterfly on rosebush, bird in pine tree, etc.)
- What the species is (if you know!)
**Important**
Please do not try to catch any species in order to take its photo, or disturb it too much.
Please do not pick or dig up any species in order to take a photo.
Please do not put yourself in harms way when trying to take a photo.
For legal purposes, please do not submit photographs with people and/or faces in.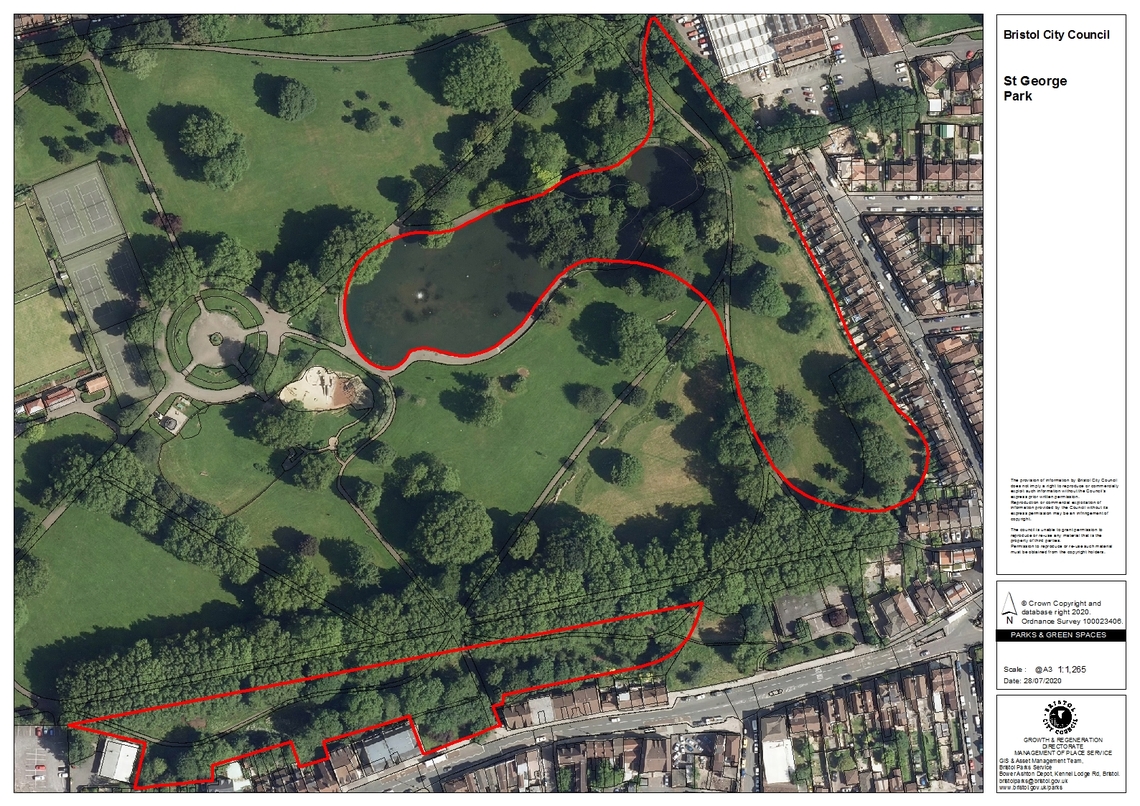 The two areas being surveyed by Bristol city council, and the focus of our community bioblitz
What sort of things can I expect to see?
The South Side area of the park is rich with a variety of plant and animal species. There are many different trees (including fruit) and especially grasses, as well as berries, wild garlic, and tall herbs. Sone notable and protected species have also been recorded in the area, such as the common pipistrelle and noctule bat, the great-spotted woodpecker, house sparrow, starling, and spotted flycatcher. These species are all red-listed on the Birds of Conservation Concern list due to significant declines over the past 25 years, so we are extremely lucky to potentially have some in our park.
There are some wonderful free apps that can help you during your bank holiday bioblitz:
SmartPlant (Android, IOS, smartplantapp.com)
Garden Tags (Android, IOS, gardentags.com)
There are other apps for identifying birds, insects, and even small mammals (if you can take the photo in time!) so try having a search online.
https://www.ispotnature.org/ is a website with an online community where you can submit your photographs to obtain an identification.
If you have any queries, please email us at eco@friendsofstgeorgepark.org.uk.