Park Photo Calendar Competition
The Park Photo Calendar Competition is open to all amateur photographers of St George Park. The community votes on the photos and we use the votes to produce a beautiful colour calendar for 2021 that makes an ideal Christmas gift and allows donations to support our work in the park.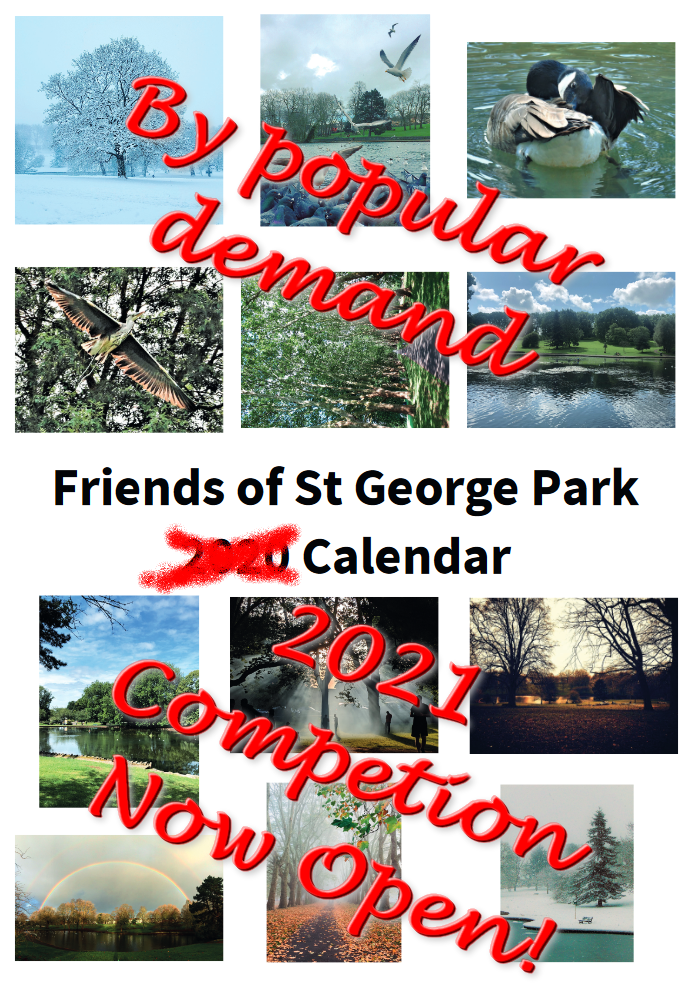 You can send in your photos from NOW until23rd October 2020. You can look at the photos already submitted.
The photographers of each photo used in the calendar will receive a free copy of the calendar. Calendars will be available from mid-November, email us to reserve a copy.
Participation in the competition is subject to the following rules:
Photos must have been taken in or of St George Park during 2019/2020 and not submitted for the 2019 competition.
Photos must be sent in no later than Sunday 20 September 2020.
Only amateur photographers can enter.
You can enter up to 4 photos.
Photos must not include identifiable people.
Photos must be at least 640 pixels in height and width but need not be square. Please use JPG or PNG format.
You must have taken the photo and be 18 or over.
You grant the Friends of St George Park the right to copy, use and publish the photos as they wish.
The Friends of St George Park may choose not to include any submitted photo in the competition.
The decision of the Friends of St George Park Management Committee is final on all matters related to this competition.
If you would like to submit a photo, send it to info@friendsofstgeorgepark.org.uk with your name and address. Your address and email will not be made public. Your name will appear with the photo unless you tell us you want to be anonymous.